I want to thank the American people for a wonderful day that I thought would never come.
I would also like to thank them for The Left for showing themselves because nothing says "unity" and "tolerance" like looting and violence. 🙂
Or watching a creepy old man checking out the First Daughter.
And Michelle, the deposed Bitch had that scowl on her face the whole time. Barack at least faked it very well. And to Hillary's credit she showed up and showed more class than her husband did or the 1/3 of Congressional Democrats who had a pout-in somewhere else.
Yesterday was the nearly unique day where Americans xfer power peacefully and graciously from one Administration to another without violence, bloodshed, or political or military coups.
King Obama abdicated graciously. Queen Michelle, not so much.
We had all the Living Presidents that could make it (our best wishes to President George HW Bush and his wife who were in the hospital) to the ceremony.
That's quite an accomplishment.
Now it's his turn…
Though he will be under attack 24/7/365 by "journalists" in the Liberal Media and The Democrats and Liberals in general.
Have they filed for his impeachment yet? 🙂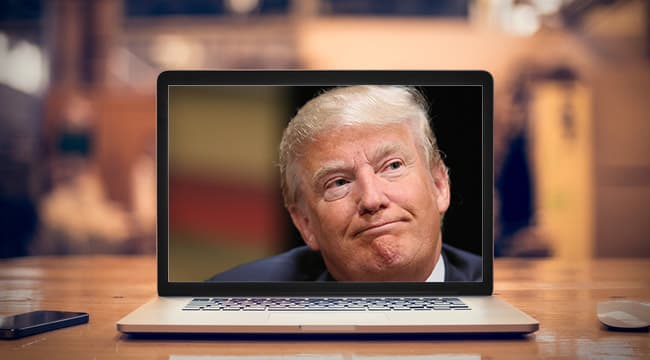 Complex.com (though Liberals contempt is not complex at all) If you rolled your eyes at all those "we're going to die" jokes yesterday, it may have been premature. Now that Donald Trump has officially been sworn in as the 45th President of the United States of America, his campaign to diminish human rights came swifter than we expected. With the former reality star's team assuming control of WhiteHouse.gov, part of the presidential transition has been wiping the website of any mentions of civil rights, climate change, and healthcare. (In comparison, the site had "issues" tabs devoted to these topics under Barack Obama's team.)
Want information about climate change? Well too bad, because our new president thinks it's a conspiracy created by the Chinese government.
Looking for healthcare? LOL good luck with that.
Interested in learning about civil rights? Not from the billionaire who trash-talked Georgia Rep. and prominent Civil Rights leader John Lewis. Who trashed him as "illegitimate".
Want to learn what Trump thinks of immigration besides wanting to build a "yuge" wall and making Mexico pay for it? Sorry, too bad.
Want to know what Trump thinks about the issues facing the LGBT community? At least you can look forward to a "healing" dance with Caitlyn Jenner.
As some have noted, the new site is poorly written and researched, as well as underdeveloped, so it's possible that these scrubs are an oversight—plus, it's standard protocol for incoming administrations to delete all existing materials on the official site. But given Trump's divisive and inflammatory stances, it feels like the first step toward a distinctively less great America. 
Good with that "unity" thing. The "tolerance" of the Left for anyone who isn't 100% in lockstep with what they want, feel, and think is smaller than The Grinch Heart before Little Sue Who.
Diversity is Exclusion of anyone who isn't them.
And Equality?
Well, they hate everyone who isn't kissing their Homo Superior Liberalis ass equally.
it's only the beginning… of the end!
Said one Liberal on Facebook.
But yet, it was only radical Leftists who were violent and petulant yesterday.
White nationalist Richard Spencer punched in the face camera while doing interview
 (loved the You tube title this leftist gave this clip. It shows their "unity" and "tolerance")
But the best moment, from a cynical viewpoint, because I was thinking the very same thing at the time…Bill Clinton checking out Ivanka Trump on the platform and Hillary busting him with a look. Hilarious…
though the You Tubers cut it up I saw it live on TV. He was checking her out and Hillary just him a "Oh BILL!" look.
It was the funniest moment of the whole day.