Once upon a time, a boy took an alarm clock out of its case and stuck it in a suitcase to create an object looking very much like a bomb, was arrested for it, and the Twitter world went nuclear. Did it matter that children have been expelled for the far less serious offense of chewing their pop tarts into the shape of a gun? No. Because this boy was named "Ahmed" and he was Muslim, and America is this supposedly anti-Islamic place. Or something.
The fallout from Ahmed's situation was blown out of proportion, all because he was named Ahmed and was a Muslim…and a bit of a jerk.
Well this week, we have an entire group of 7th graders suffering religious oppression in school. None of them brought suitcase clocks that looked like bombs, nor did they chew their pop tarts to form the shape of Mohammed. Perhaps if they had, you'd have heard about them long before now. Also, ISIS would've tried to kill them, ala Pam Gellar's group in Texas. But you haven't heard of this story before. And unlike little Ahmed with his dismantled alarm clock he put into a suitcase for reasons we cannot speculate upon because racism, these kids probably won't get invited to the Obama White House.
The 7th Grade assignment? Deny God is real or… fail.
"She told anyone who said fact or opinion is wrong and that God is only a myth," Wooley says in her statement. "She started telling kids that they were completely wrong and when kids would argue she had told them that we would get in trouble."

She added: "When I tried to argue she told me to prove it and I tried to offer things such as the Bible and stories that I've read before from people who have died and went to Heaven, but have come back and told their stories."

Wooley says the discussion became a heated classroom argument that prompted one child to slam her books on her desk and another student to go home crying…

"For her to tell me my religion was wrong shocked me," Wooley says. "To me there is a God."
Let's play a little game. What if the paper asked, "Is Muhammad real?" Or, "Is Allah real?" Five points to the first person who can guess what would've happened to the teacher. Five points. Ready…go!
If you guessed "Islamaphobia" would be plastered in 24/7 wall-to-wall coverage, and for the next two weeks we'd be lectured on sensitivity and the merits of Islam, go give yourself five gold stars and ten crescent moons. Because you're smart. But when Christianity is under attack? Meh. That Jesus guy with his cross?
Also, when we heard all about little Ahmed and the bomb thing, we all heard about "Islamophobia" which begs an important question. Do we even have a word for prejudice against Christians? Christianphobia? Anybody mention it lately? Don't worry. Christmas is coming. They will.
Of course it's totes okay to persecute the Christians if you're a leftist. A) Christians don't tend to blow people up who draw their leader and b) Christians believe in all that right and wrong stuff about morality and doing the right thing. To a leftist, someone believing in right and wrong is a giant threat against their hedonistic ways of baby butchery and thinking marriage is between two people who can naturally make babies. Which is the real reason they're being targeted… (Crowder)
The Agenda is The Agenda. The Narrative is The Narrative.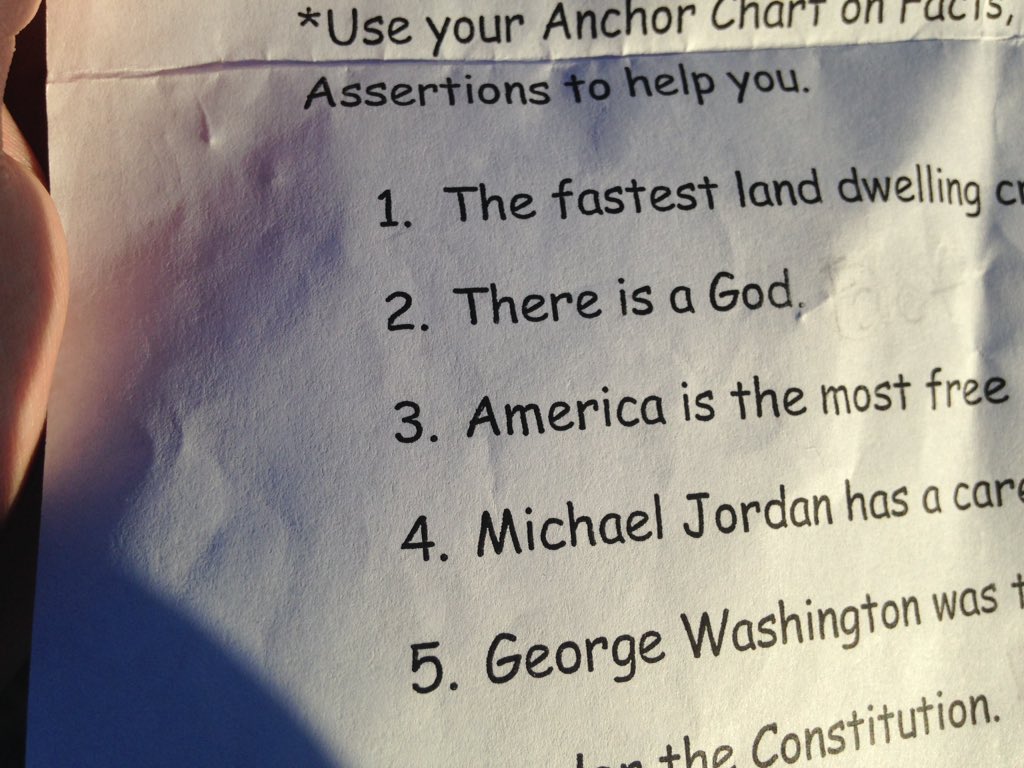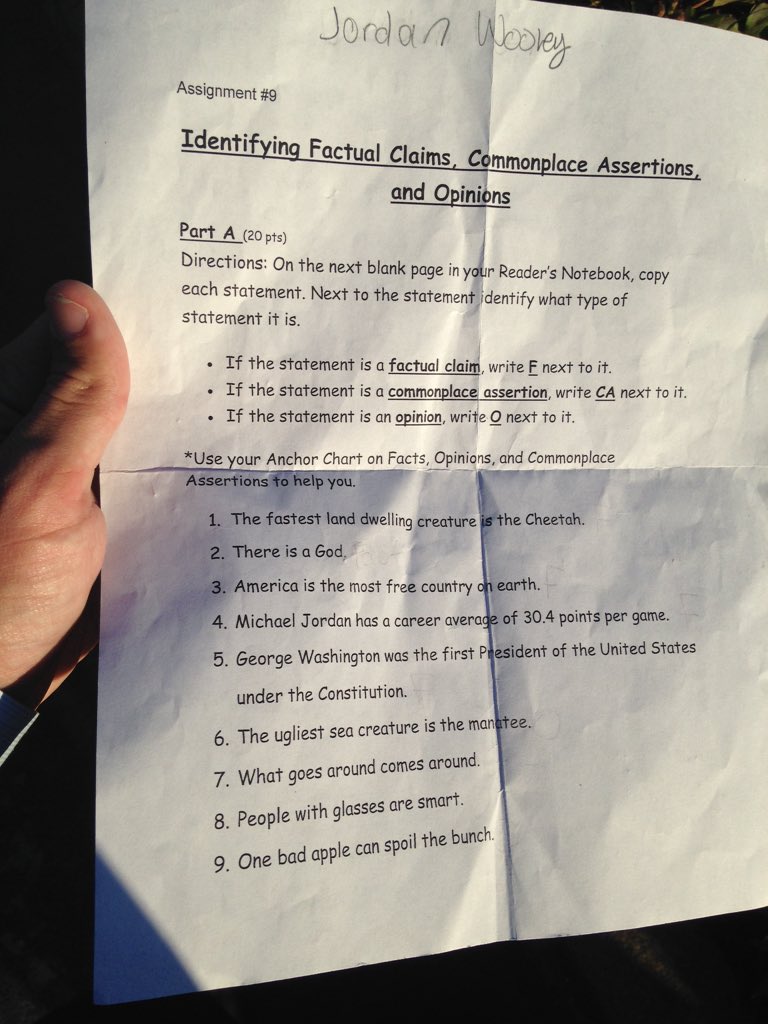 Naturally, it was the non-liberal media's fault for blowing this out of proportion (unlike Ahmed and the Clock) so when the issue wouldn't go away… You get the half-hearted Liberal response that yeah, we did it but we didn't meant to, it was taken the wrong way….blah blah blah. Exactly, what the Liberals won't do if the shoe is on the other foot.
On October 26, two West Memorial Junior High parents contacted the school's principal to share their concerns over a classroom activity that they felt questioned students' religious beliefs. The school principal immediately investigated and determined that the classroom activity included an item that was unnecessary for achieving the instructional standard. The activity, which was designed to encourage critical thinking skills and dialogue by engaging students in an exercise wherein they identified statements as fact, opinion, or common assertion was not intended to question or challenge any student's religious beliefs.
Katy ISD says the teacher explained that a commonplace assertion exists when there is room for debate. [The district also said] the worksheet will not be used again in classrooms and that students did not get graded on that assignment.
The teacher is distraught by this incident, as some commentary has gone as far as to vilify her without knowing her, her Christian faith, or the context of the classroom activity.
Now the Teacher is the "victim"!!
Nancy Pelosi is a "devout" Catholic who pushes Planned Parenthood at ever turn. So that means nothing.
Still, this does not excuse the fact that this ungraded activity was ill-conceived and because of that, its intent had been misconstrued.
I have a degree in Education, and it's the teacher's job to go over the lesson plan and the assignments ahead of time.  This apparently wasn't done, or is it just that they didn't manage to sneak this one past?
Screening for bias or questions that can be misinterpreted is part of the teachers job. I had an ENTIRE SEMESTER course on writing test questions alone. It's not easy, but it's your job.
As a result, the activity will no longer be used by the school, and the teacher has been advised and appropriate personnel action will be taken.
Meaning, NOTHING will happen. It's not like they are going to screen for Liberal Bias now. 🙂
The school regrets any misconceptions that may have resulted from this teacher-developed classroom activity and assures its school community that the religious beliefs of all students and staff are welcomed and valued at West Memorial Junior High.
Half-hearted, mealy mouthed response after getting caught doing it. Let's downplay it as much as possible.
Unlike Ahmed & The Clock.
But that's hardly going to stop the Secularist Liberal for their appointed arrogance and feelings of superiority of all.
So, I'll give the atheists the last word:
There's a controversy currently brewing in Katy, Texas, because that question about God's existence is being used as evidence for Christian persecution.
That accusation is being made by seventh-grader Jordan Wooley, who said the statement about God was a fact. Her teacher correctly told her that was the wrong answer. Now, Wooley claims she is being forced to choose between her grades and her faith.
If that sounds like the plot of the next God's Not Dead movie, that's because it's just as ridiculous. But that's the narrative conservative websites are pushing.
Yeah, the narrative the Left is pushing is not relevant here…. 🙂